Reimagining Possible Futures & Igniting Capacity for Change
Learn more about the event below:
All gifts will be shared via email after Tuesday, November 28th.
Regenerative Art Bundle
Top 4 downloadable prints ($100 value)
1 Year of Garden Club Access
($149 value – complete 3-week course on growing your own food + 7 in-depth micro-course on land-based living skills and a community of people learning alongside you)
Regenerative Art Bundle
Top 4 downloadable prints ($100 value)
3 Months of Commune Membership
($75 value) Access to ALL course content – over 125 courses including Zach Bush, MD, Gabor Mate, Paul Hawken, Evelyn Carter, Deepak Chopra, Kate Nelson courses and many more)
1 Year of Garden Club Access
($149 value – complete 3-week course on growing your own food + 7 in-depth micro-course on land-based living skills and a community of people learning alongside you)
Regenerative Art Bundle
Top 4 downloadable prints ($100 value)
1:1 Call with Founder Zach Bush MD
3 Months of Commune Membership
($75 value) Access to ALL course content – over 125 courses including Zach Bush, MD, Gabor Mate, Paul Hawken, Evelyn Carter, Deepak Chopra, Kate Nelson courses and many more)
1 Year of Garden Club Access
($149 value – complete 3-week course on growing your own food + 7 in-depth micro-course on land-based living skills and a community of people learning alongside you)
Regenerative Art Bundle
Top 4 downloadable prints ($100 value)
A full day Giving Tuesday event showcasing a collection of eclectic, meaningful, and intimate expressions of wisdom, song, and story surfacing and celebrating the defining moments that have catalyzed will and built capacity to steward regeneration across an array of lived experiences and walks of life.
This virtual convergence reimagines the possible futures of our food system with keynotes, panels, and artistic expressions to unify our efforts and inspire civil enablement and participation in a regenerative future.
A movement is made of millions and millions of individuals experiencing catalytic events that ignite the will to align intention with action and that is why we are coming together – because these are the ingredients for change.
Join us for CATALYZE! and find your fire to grow, support and express regeneration.
See below for Sessions and Speakers!
Grounding in Terminology: Regenerative
Agriculture
THE PARALLELS OF THE DOCTOR AND FARMER JOURNEY
Coexisting with Pesticides
THE FUTURE IS ANCESTRAL + FOOD IS MEDICINE
THE POTENTIAL OF BUSINESS FOR SYSTEMS CHANGE
Storytelling:
Context + Convergence
Pathways to Regenerative Investment
The 'Beyond
Regenerative' Skit
The Ripple Effect – Unity in Action
A Bold Return to Giving a Damn:
The Future
of Health + Regenerative Living
Jessie Gardner
Marketing Director,
Farmer's Footprint
Learn More
Jessie Gardner is a pollinator and amplifier of stories and lineage of land stewards, active farmers, ranchers and citizens rallying around the regenerative agriculture movement to restore the nobility of the farmer, soil health and the sanctity of the land. She serves as the Marketing Director for Farmer's Footprint, a 501c3 catalyzing the universal adoption of regenerative agriculture as a means to cultivate soil, human, and planetary health. With over 10 years of digital marketing experience for fortune 100 brands, she now applies those learnings to create positive disruptions in the world. Her craft is where the art of story and soil meet as a catalyst for positive change.
Joan Henry
Dekanogisgi
(traditional song-carrier)

, Hahesh'kah

(lead drummer)

, Native Women's Traditional Dancer, and Elisi

(Grandmother)
Learn More
Joan Henry is both hahesh'kah (lead drummer) and dekanogisgi (traditional song-carrier), and a Native Women's Traditional dancer. Raised to listen deeply from an early age, she is best known as a singer and stage performer whose youth was filled with her grandmothers' and elders' stories, songs and healing plant-knowledge. In this time of prophecies, she is honored to be a Northern Representative to the Council of the Eagle, Condor, Quetzal and Colibri.
Encouraged by her elders, she founded the acclaimed traditional drum group Mothers of Nations Singers & Dancers (later known as Sky Woman Singers) – the first women's drum ever invited to the National Native American Veterans Powwow in Washington DC and the first to preside at Indigenous Peoples' Day Opening Ceremonies for the United Nations – where Ms. Henry has since presented on healing & spirituality among First Nations women and offered opening prayers & song for the International Day of Peace and the World Indigenous Forum.
Vocalist, actress, dancer, composer, poet-lyricist, percussionist and choreographer Joan Henry is a versatile performer connected to the living earth. When not traveling to perform solo or with family and friends, Ms Henry teaches, presents and consults at schools, universities and museums from Wellesley & Vassar Colleges to the Smithsonian Museum of the American Indian in New York City; works with women & youth in Indigenous communities in the US & Canada and directs empowerment and arts-in-healing programs in upstate New York.
Dr. Zach Bush, MD
Co-Founder, Farmer's Footprint & Founder, Seraphic Group
Learn More
Zach Bush MD is a physician specializing in internal medicine, endocrinology and hospice care. He is an internationally recognized educator and thought leader on the microbiome as it relates to health, disease, and food systems. Dr Zach founded *Seraphic Group and the nonprofit Farmer's Footprint to develop root-cause solutions for human and ecological health. His passion for education reaches across many disciplines, including topics such as the role of soil and water ecosystems in human genomics, immunity, and gut/brain health. His education has highlighted the need for a radical departure from chemical farming and pharmacy, and his ongoing efforts are providing a path for consumers, farmers, and mega-industries to work together for a healthy future for people and the planet.
Stephanie Yawa de Wolfe
Pan-Africanist Togolese-American Facilitator, Coach, Cultural Producer
Learn More
Stephanie Yawa de Wolfe is a Pan-Africanist Togolese-American facilitator, coach, cultural producer, and consultant interested in the health sovereignty of marginalized communities and leaders. She supports individuals and institutions who want to enact changes in themselves or in their work that align with the values of social justice or liberation. Stephanie brings an academic background in structural drivers of health outcomes, namely the intersecting impacts of racial capitalism on food sovereignty and physical health into her work. The study and practice of plant medicine, food as medicine and mid-wifery-informed postpartum care shape Stephanie's interest in how we can cultivate cultures of care and relational wellbeing. As a wellness facilitator and liberatory coach, she supports individuals in reclaiming trust in their bodies and intuition with somatic exploration, mindfulness, creative exercises, herbal medicine, and health education.
David Leon
Co-Founder & Executive Director,
Farmer's Footprint
Learn More
David Leon is a Co-Founder and Executive Director at Farmer's Footprint, a leading regenerative agriculture non-profit. His career spans key executive roles in a number of early stage venture backed businesses touching consumer products, health and wellness, technology, real estate, and brand portfolio management. David has also led consultancy in growth-centric strategy, operations development, systems design, technology and product management. David is a Founding Partner at Biome Capital Partners and a Managing Partner at Esso Partners. Outside of his work, David enjoys cooking, fermenting, and baking sourdough for his wife, Arielle and son, Remy. On the weekends, find him working in the garden or running a community farm stand at his home on the island of Lana'i.

Nathalie Kelley
Actress &
Quechua Storyteller
Learn More
Nathalie Kelley is an actress of Quechua descent, most recently starring in the #1 Netflix series The Baker and the Beauty. As a board member of the Kiss The Ground and the Fungi Foundation, she uses her storytelling talents to elevate Indigenous wisdom as the key to coming back into harmony with our ecosystems. She advocates for justice for the human and more-than-human world, with particular focus on the soil, fungi and forests. At the core of her mission is the preservation of Biodiversity, including cultural and myco-diversity on the planet.
Dr. Nasha Winters, ND, FABNO
Executive Director, Metabolic Health Institute
Learn More
Dr. Nasha Winters is a global healthcare authority and best-selling author in integrative cancer care and research consulting with physicians around the world. She has educated hundreds of professionals in the clinical use of mistletoe and has created robust educational programs for both healthcare institutions and the public on incorporating vetted integrative therapies in cancer care to enhance outcomes. Dr. Winters is currently focused on opening a comprehensive metabolic oncology hospital and research institute in the US where the best that standard of care has to offer and the most advanced integrative therapies will be offered. This facility will be in a residential setting on a gorgeous campus against a backdrop of regenerative farming, EMF mitigation and retreat, as well as state of the art medical technology and data collection and evaluation to improve patient outcomes.
Will Harris
Regenerative Rancher & Founder, White Oak Pastures
Learn More
Will Harris is a fourth-generation cattleman, who tends the same land that his great-grandfather settled in 1866. Born and raised at White Oak Pastures, Will left home to attend the University of Georgia's School of Agriculture, where he was trained in the industrial farming methods that had taken hold after World War II. Will graduated in 1976 and returned to Bluffton where he and his father continued to raise cattle using pesticides, herbicides, hormones, and antibiotics. They also fed their herd a high-carbohydrate diet of corn and soy.
These tools did a fantastic job of taking the cost out of the system, but in the mid-1990s Will became disenchanted with the excesses of these industrialized methods. They had created a monoculture for their cattle, and, as Will says, "nature abhors a monoculture." In 1995, Will made the audacious decision to return to the farming methods his great-grandfather had used 130 years before.
Since Will has successfully implemented these changes, he has been recognized all over the world as a leader in humane animal husbandry and environmental sustainability. Will is the immediate past President of the Board of Directors of Georgia Organics. He is the Beef Director of the American Grassfed Association and was selected 2011 Business Person of the year for Georgia by the Small Business Administration.
Will lives in his family home on the property with his wife Yvonne. He is the proud father of three daughters, Jessi, Jenni, and Jodi. His favorite place in the world to be is out in pastures, where he likes to have a big coffee at sunrise and a 750ml glass of wine at sunset.
Margarita Bárcena
Development Strategist, A Growing Culture
Learn More
Margarita is a politologist focused on praxis with the passion and skill for understanding food as a vector for liberation and the synergies needed in between. As a bridge builder with program experience in grassroots and international organizations, she serves as the Development Strategist at 'A Growing Culture' – an organization working towards a future of food sovereignty through storytelling. By centering grassroots communities, AGC confronts the root causes of injustice in our food systems and aims to seed radical hope for a just and dignified future for all.
Joi Lee
Head of Editorial, Earthrise Studio
Learn More
As a journalist, producer and correspondent, I focus on the intersections between environment, climate, and social equality. As the Head of Editorial at Earthrise Studio, I'm committed to expanding the climate narrative and championing diverse perspectives and tools in storytelling.
I have been a part of the early development of several teams, initiatives and projects, including RYOT (before and after it was acquired by Huff Post) and AJ Contrast, where I won several awards for my 360/VR documentary producing work. At Al Jazeera, I co-created and co-hosted a documentary project, Fork the System, a refreshing look at socio-political issues through the palatable lens of food, before developing video series like Between Us and working on podcasts with the newly formed Al Jazeera's Special Projects. I've also worked as a presenter/correspondent, most notably in Channel News Asia's documentary series, Deciphering South Korea. Having worked with VR, film, photography, writing and audio, I feel strongly that every story must be told in the right medium.
Democratizing storytelling tools/platforms and supporting people to author their own narratives is a core tenet of my work. I've started a citizen journalism program at RYOT and the award-winning initiative at AJ Contrast called My People, Our Stories that trained and equipped local creators from Za'atari refugee camp in Jordan, the larger MENA region, Los Angeles and more to produce their first 360 videos. I've held training workshops worldwide — from Spain, UK, US, Jordan, Turkey, Greece and more, and was a journalism adjunct lecturer at Northwestern University in Qatar.
Amy van Saun
Senior Attorney,
Center for Food Safety
Learn More
As an attorney with the Center for Food Safety, I specialize in public interest environmental and food law and litigation. Center for Food Safety is a national non-profit with the goal of supporting farmers, empowering people, and protecting the environment from industrial agriculture. In our Pacific Northwest office, I concentrate my practice on animal factories, aquaculture, pesticides, pollinators, genetically engineered organisms, and organic integrity.
Following graduation from Lewis and Clark Law School with a certificate in Environmental and Natural Resources Law, I spent 3 years in my home state of New York, working for a law firm in NYC. There, I litigated complex insurance coverage claims related to environmental liabilities in state and federal courts. I also volunteered with Earthjustice in their Northeast office, doing factual and legal research regarding factory farms. I joined Center for Food Safety in Oregon in early 2015. I am admitted to the bar in Oregon.
Stephen Smith
Founder, CEO,
Onda
Learn More
Growing up in North Carolina in an active family, Stephen spent most of his developmental days outside exploring his grandmother's farm, the woods, streams, and lakes of this bio-diversified Southern landscape.
After school in the Rocky Mountains, it was a five-month solo motorcycle adventure through South America that piqued Stephen's interest in farming, grape growing, and wine-making. This ultimately led him to get his hands dirty working for boutique wineries and farms in Napa, California.
By 2012, Stephen found his next job back in Colorado to work as the Director of Business Development for the first Organic distillery in the US and first Biodynamic® farm in Colorado. Then, experiencing a year on a 90,000-acre cattle ranch opened Stephen's eyes to large-scale holistic land management, animal husbandry, and agricultural and economic diversification. Over 12 years learning and working in regenerative agriculture has helped build the foundation of the Onda ethos.
Stephen's fascination with hemp goes back over 20 years when he wrote his high school research paper on the many uses of hemp. "My mind was blown by how dynamic this crop is and by the strange fact that hemp is not being used for building materials, medicines, food, fiber and more. This truly feels like my life's work. Time to bring hemp back." This is Onda.
Calla Rose Ostrander
Managing Partner, Terra Regenerative Capital
Learn More
Calla Rose Ostrander is a political economist by training and has spent the past ten years supporting the growth of the regenerative agriculture movement by working with funders, governments, and communities on policy, implementation, and investment. Prior to her time in regenerative age she spent nine years in climate policy with the City of Aspen and the City and County of San Francisco.
Calla Rose is a founding partner of Terra Regenerative Capital, an catalytic investment vehicle that provides flexible capital and development services to businesses that help regenerative farmers and ranchers reach value-add markets. From 2020-2022 she supported the roll out of Natural and Working Lands Climate Strategy with the State of California Natural Resources Agency. She is Board Chair of Tree Range Farms, and serves on the boards of The Laughing Coyote Project, Mad Agriculture, LA Compost. She supports compost development and regenerative land stewardship as a team member of the People, Food & Land Foundation, and acts as an advisor to Mycelium Youth network and Kiss the Ground.
Terra Regenerative Group invests from Soil to Shelf, building the supply chain and value add market access for regenerative agricultural producers. We provide catalytic capital, philanthropic support, and strategic advisory tools to scale the adoption of regenerative practices, secure domestic supply chains, and rebalance the climate.
Terra Regenerative Capital invests in leaders in regenerative agriculture whose businesses bridge current gaps in the supply chain (aka the "messy middle") with appropriate investment structures to achieve impact and financial goals.
Terra Regenerative Foundation deploys human and financial capital to support regenerative agriculture systems through grants and investments, education, advocacy, and technical assistance. We work closely with the businesses we invest in to support their growth and the adoption of regenerative practices by the farmers from whom they source.
Koen Van Seijen
Host, Investing in Regenerative Agriculture Podcast
Learn More
Koen van Seijen is author and host of the Investing in Regenerative Agriculture podcast series. He interviewed over 250 investors, investment fund managers, opinion leaders, farmers and scientists to find out how best to put money to work to regenerate soil, people, local communities and ecosystems. He is currently member engagement manager of Toniic, the global community of dynamic and active impact investors.
Previously Koen supported Aqua-Spark, an impact investing fund focused on sustainable aquaculture companies. He lives between the Netherlands and Italy.
Malin Jönsson
Executive Director, Semillas de Vida Foundation (Seeds of Life Foundation)
Learn More
Since August 2017, Malin has been collaborating with the Semillas de Vida Foundation, of which she has been coordinating since August 2019 and is now an honorary member. The organization advocates for healthy nutrition starting from the seed, with a specific focus on the protection of native corn. They are part of the National Campaign "Without Corn, There Is No Country," (Sin Maíz No Hay País), the Alliance for Food Health, and the Alliance for Our Tortilla.
Malin has spent 14 years in Mexico working on the topic of corn. Although she is a naturalized Mexican, she is originally from Sweden. She earned her PhD in Latin American Studies from UNAM in 2012 and conducted postdoctoral research at the Institute of Social Research, also at UNAM, from 2015 to 2017. Concurrently, from 2013 to 2023, she served as a professor in Rural Issues and Human Rights at the National School of Social Work at UNAM. Starting in April 2023, she has also been a Researcher for Mexico at CONAHCYT as part of the project "University and Sustainable Nutrition: From the Milpa to the Table."
Malin has analyzed issues related to the socio-economic situation of corn-producing peasant communities within the context of the neoliberal model and its implications for the development of the constant diversity of corn. Furthermore, she has delivered several lectures and published numerous scientific articles and book chapters on this matter.
Cameron Miller
Chief Executive of Business Strategy, Non GMO Project
Learn More
Cameron Miller is the Chief Executive of Business Strategy and Innovation for the Non-GMO Project. Growing up farming on the Palouse, Cameron developed a deep appreciation for the connection between our land, our food, and our health. A varied career that includes time as a design engineer, a Six Sigma Black Belt, a software company executive, a founder of a sharing economy platform for farmers, and his role at the Non-GMO Project; a rich volunteer background that includes serving on the Board of Directors of Tilth Alliance and Sustainable Connections; and an MBA in Sustainable Systems, positions Cameron well to be a change leader in food systems work. His time learning living systems regenerative ways of working through the Carol Sanford Institute and reNourish Studio has up-leveled his ability to truly affect system level change.
Farmers of 1000 Tiny Farms
Farmer Greg Reese, David Berning, and Evan Hauth
Learn More
1000 Tiny Farms is a movement to cultivate a regional network of market gardens and the sharing of resources between farmers.1000 Tiny Farms was pioneered by Greg Reese, is a first generation farmer with a passion for growing food through healthy soils and biodiverse landscapes. Together with David Berning and Evan Hauth, these men have created the Cardiff Tiny Farm – a small scale regenerative farm and farm stand in Cardiff, CA, which serves as a local hub for community and healthy food.

Sonia Tapia
Director of Agriculture, Arca Tierra
Learn More
Sonia, a native of Mexico City, has dedicated her life and career to regenerative agriculture. She earned her degree in agronomy from the Universidad Autónoma Metropolitana's Xochimilco unit in Mexico City. Since 2006, Sonia has been deeply involved in organic and agroecological agricultural systems, offering technical assistance and training across various municipalities in the City. Her journey includes pivotal roles such as evaluating and monitoring productive and conservation projects for natural resources at the Milpa Alta Mayor's Office in CDMX in 2007.
In 2011, she continued her impactful work by contributing her expertise to the Ministry of Rural Development and Equity for Communities (SEDEREC), focusing on agricultural and livestock projects. Her commitment to environmental preservation led her to support soil and water conservation projects in Tláhuac and Milpa Alta municipalities in 2012 through the COUSSA program.
Sonia's versatility shone through her collaboration with El Huerto Orgánica S.A. de C.V. in 2013, where she coordinated a wide array of activities, from production and logistics to strategic alliances and quality control. From 2019, she has been an integral part of the Produce CDMX Foundation, spearheading the Escuela Campesina project, dedicated to the transmission of rural knowledge.
In 2022, Sonia assumed the role of Head of Agriculture at Arca Tierra, where she orchestrates agroecological agricultural production, regenerative, and syntropic agriculture, further solidifying her commitment to sustainable farming practices. She also coordinates activities in the Rural School Training Center project, operated by the Civil Association Xochimilco Agroecological Initiative, in Mexico City, fostering a harmonious relationship between agriculture and the environment.
Agriculture in the chinampas has largely lost its techniques and traditions to become an agriculture that grows monocultures with agrochemicals. In 2011 he founded the Yolcan project with which, little by little, techniques from the knowledge of the Chinampero grandparents were recovered. This is how he began his training in agriculture which was complemented by attending organic agriculture courses in Mexico with great Latin American masters such as Jairo Restrepo, Nacho Simón and Ricardo Romero.
For Lucio, the peasant farmer is the most important person in today's society. Lucio believes that today we need more organic farmers than ever, to preserve our varieties, achieve food security and help reverse climate change. He currently works at Arca Tierra as founder and general director.
Gail Fuller
Owner & Farmer,
Circle 7 Farms
Learn More
Gail's life journey has taken him on a path from a 3200-acre conventional corn and soybean farm to a 162-acre food farm that stewards multiple species of livestock and grows multiple varieties of fruit, nut, and vegetable crops. Along the way, he has learned the value of healthy ecosystems to both his farming operation as well as his own health. Fuller puts emphasis on principles, not practices and thinks farming should be about (re)growing communities. Gail Fuller believes we need to be growing our food in systems designed to live and thrive according to nature's principles. Gail has spoken at conferences and workshops all over the country and in 2012, along with help from his wife Lynnette and Dr. Jill Clapperton, started the Fuller Field School. It has quickly become recognized as one of the premier advanced educational events in the US with speakers and attendees coming from all over the globe. He and Lynnette are adding more educational events on their new farm and they are also passionate about educating consumers. Gail believes the only way to change food production in the US is from the bottom up. Quote "We can't sit around and wait for the government to fix our broken food system, to heal our broken farmers, or to guide consumers on proper diets. We have to do this ourselves, one consumer at a time and one farm at a time"
Paul Izak
Singer & Songwriter, Land Steward, Co-founder and Co-operator of Yogarden
Learn More
Paul Izak was born and raised on the Hawaiian Islands and currently lives it up on the Island of Oahu.​ His love for music continues to grow, just like his garden. Representing a healthy and simplistic life, Paul is a believer in honoring yourself as an individual so that you may better contribute to your community through healthy sustainable practices. This is the message you get through Paul's music, as he practices what he preaches. Paul's full length albums include, Peaceful Words (2010), Seeds of Love (2011), Everlasting Light (2013), Campfire Anthems (2013), Back to the Roots (2017).
Trevanna Frost Grenfell
Faculty,
reNourish Studio
Learn More
Trevanna Frost Grenfell works with the intersections of how people directly relate with the living world and how we develop our thinking and actions within it. Weaving twenty years of academic training and on-the-ground experience in both organizational strategic consulting and deep nature connection mentoring, Trevanna challenges and supports leaders to develop themselves through rigorously practicing "living systems thinking" so that our work—and our world— can truly thrive.
Peter Pontikes
Partner,
Biome Capital Partners
Learn More
Peter has over 30 years of investing experience, primarily in public markets, hedge funds and derivatives. Much of his time was spent working with institutional investors including pension and endowment funds in the US and Canada.
A few years ago, in the middle of a global pandemic, Peter was contemplating retirement when a friend asked if he knew anything about regenerative agriculture and was interested in helping with a project called Biome Capital Partners. Despite having grown up on the Canadian prairies he admittedly knew nothing about agriculture but jumped in anyway. A year later he found himself walking a farm in Vermont with Jesse McDougall and he's been hooked ever since. Today, Peter is 'the numbers guy' at Biome and helps with evaluating farmland opportunities in the regenerative space.
Victoria Corrales
Head of Product Innovation, Flamingo Estate
Learn More
A specialist in global product development with extensive experience across beauty, wellness, and food categories. Leads innovation concept-to-launch with an established track record of creating high-performing products that drive growth. An expert in portfolio management and optimization. Passionate about sourcing. Known for a keen understanding of customer wants, exceptional communication, and strategic thinking. Highly experienced working cross-functionally with marketing, creative, sales, and operations.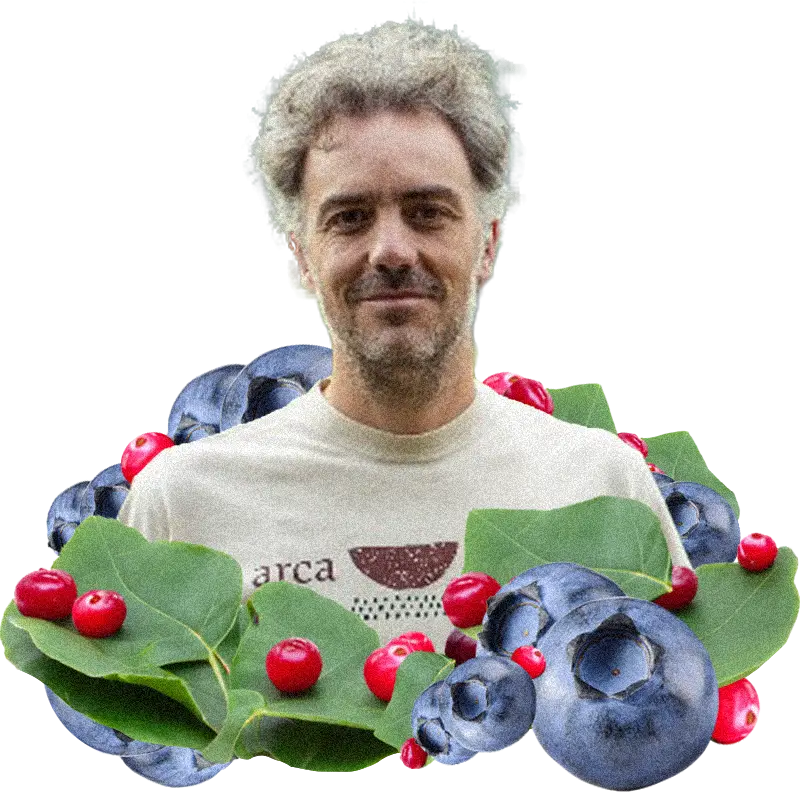 Lucio Usobiaga
Executive Director,
Arca Tierra
Learn More
Lucio was born and has lived most of his life in Mexico City, one year in England and one year in France to study English and philosophy respectively. After finishing school he studied law for a year and after taking a diploma in philosophy, he decided to leave law and do a degree in philosophy at the Universidad Iberoamericana. Once he finished his bachelor's degree, he completed a master's degree in philosophy at UNAM where he obtained honorable mention. In 2009, Lucio teamed up with some friends to create the project called "Productos de la Chinampa". Through this, they supplied restaurants and their own store with organic and artisanal products. During this time, he understood the potential of peasant agriculture as a key factor in feeding, practicing fair trade, and regenerating the land. When he approached Xochimilco to look for organic vegetables, he became aware of the problems in the area and the serious threat it faces if networks are not woven for its conservation.
Agriculture in the chinampas has largely lost its techniques and traditions to become an agriculture that grows monocultures with agrochemicals. In 2011 he founded the Yolcan project with which, little by little, techniques from the knowledge of the Chinampero grandparents were recovered. This is how he began his training in agriculture which was complemented by attending organic agriculture courses in Mexico with great Latin American masters such as Jairo Restrepo, Nacho Simón and Ricardo Romero.
For Lucio, the peasant farmer is the most important person in today's society. Lucio believes that today we need more organic farmers than ever, to preserve our varieties, achieve food security and help reverse climate change. He currently works at Arca Tierra as founder and general director.
Ian McSweenEy
Founder, The Farmer's Land Trust, Inc
Learn More
Ian McSweeney's life work has focused on a passion for human connection to soil and food. In the first stage of his career as a social worker, he worked in school, residential, in-patient, and community mental health settings, with a focus on developing and operationalizing several outdoor experience based education programs. Then, desiring more direct work with human connection to soil and food, Ian shifted career to real estate, working at a private club in Montana, in residential sales in New Hampshire, and then founding a brokerage and consulting company to focus on prioritizing conservation, agriculture, and community within typical land development.
From there, an evolution into philanthropic work came about with the Russell Foundation first engaging Ian to facilitate acquisition of a parcel of land for conservation outcomes and then hiring Ian on to operate and grow the private foundation. Ian was able to scale up the foundation from an education and land conservation focused mission that supported a few townships to a statewide-operating and nationally-recognized leader in farm-based fundraising, farm land conservation, negotiations and transfer, access and tenure, and stewardship and management toward sustainable and regenerative agriculture with equitable secure tenure for farmers.
Ian has now founded a consulting business, Farmland Consulting, to focus on innovation within farmland ownership, conservation, stewardship, and fundraising to support communities through farmland preservation.
Ian previously led the Agrarian Trust and now leads the Farmer's Land Trust. This work is focused on building the issue of farmland access, supporting stakeholders, and innovating and creating models and practices of owning and investing to hold farmland in common. The Farmer's Land Trust is focused to grow and evolve into the full embodiment of its mission and scale up to address the complexities, meet the on-ground needs, and provide models of success in address farmland ownership, conservation, tenure, and stewardship work across the country and as a resource of models for those working around the globe.
Alex Woodard
Author &
Singer-Songwriter
Learn More
Alex Woodard has toured nationally behind several critically acclaimed albums, earning a few prestigious industry nods while sharing the stage with some of his heroes.
His For the Sender book, album, and concert series has garnered praise from Huffington Post ("important, enlightening, and ultimately inspiring"), Deepak Chopra ("a beautiful tribute to the resilience of the human spirit"), Dr. Wayne Dyer ("an inspiring, thought-provoking, and life-changing work"), and Billboard magazine ("one of the year's most touching, unique releases"), among others.
Alex lives with four horses, two dogs, two chickens, and two beautiful humans on a small ranch near the California coast.
Dana Ngo
Lead Organizer, TerraBiome & Ocean Health Cooperative
Learn More
Dana Ngo is a weaver of conversations and collective movements, tying together traditional wisdom and applied technologies– spirituality and science.
With formal education, training, and extensive experience in genetics & genomics, education, and ecology, she has taken her work and communications roles into the field of ecological governance and planetary health advocacy. Her current areas of exploration with her communities include systems of evolution of the self and the world through advising businesses and non-profit organizations.
"In a world where the planet is continuously evolving and the number of resources are shifting with it, how do you ensure the vitality of every single being and make sure that they are getting the best quality of life? And how do you do so while being mindful of the changing environment, different cultural practices, fluid energetics, dynamism, and being in reciprocity? These are the questions that I explore in my work and research."
Ines Frazier
Director of Community,
Farmer's Footprint
Learn More
Seed
Everything we need is within ourselves and we can grow and help our local community through engaging with others, soaking up nutrients, and sharing our gifts. #thankyousoil
Robyn Ford
Director of Social Media,
Farmer's Footprint
Learn More
Mycelium
In the same way they wrap around tree roots to form a wider network, connecting individual plants together to transfer information, water and minerals, so I find and tell the stories at the heart of what we do and transfer them to a wider network in the social space.
Jesse McDougall
VP of Marketing at Steward and Farmer at Studio Hill
Learn More
Jesse McDougall is an author, a VP of Marketing at Steward and farmer at Studio Hill—a regenerative 5th-generation family farm in southwestern Vermont.
Since 2012, he and his wife, Cally, have used holistically-managed livestock to rebuild soil, increase biodiversity, increase water infiltration and retention, and sequester carbon across 150 acres of their 350-acre farm. McDougall is an author, a public speaker, and an accredited professional holistic management educator, and is working to rebuild farming infrastructure in the northeast. He and his wife live with their two children on the farm in Shaftsbury, Vermont.
Alana Herrerias
Director of Programming,
Farmer's Footprint
Learn More
Roots
I am mostly belowground to serve as anchorage. I absorb the nutrients to connect to the stems and hold soil particles firmly to prevent erosion, then help transport those water and minerals to the leaves, flowers and fruits!
Diana Kobus
Executive Director,
Pennsylvania Certified Organic
Learn More
Diana joined the PCO team as Executive Director in June 2020, with over a decade of non-profit leadership experience in the certification of individuals in the environmental and public health professions. Diana has a Masters in Environmental Science and Management with a study focus in Organic Agriculture from Duquesne University's Center for Environmental Research and Education program, and undergraduate degrees in English and Communication Studies from Carlow University. She was the Executive Director of the Institute of Professional Environmental Practice (IPEP) for twelve years, successfully facilitating a merger with another organization serving the public health professions.
Following five years working for Whole Foods Market in the early 2000s at various locations around the country, she was moved to find ways to educate the public about the organic standards and food labeling after many interactions with curious customers concerned about their own health or sick loved ones. She brings extensive non-profit leadership experience to PCO along with a passion for organic production and the critical impacts it has on human health and the environment. Born and raised in Pittsburgh, PA, where she currently resides, she finds great solace in the honesty and directness of working with farmers and great joy in collaborating with stakeholders to find innovative and generative new pathways toward a healthy future for all.
Mel Heath
Director of Operations,
Farmer's Footprint
Learn More
Clay
I'm here to nurture the soil of our team, allowing essential elements to be held and shared among us. I provide structure and support that help us bloom and thrive together, ensuring our collective potential remains abundant and sustainable